Resume
WORK EXPERIENCE
Professional, legal, commercial and web translator from Italian and English into French
From 2016—present
Translation, proofreading and post-editing services on technical, political, legal and administrative texts from Italian and English into French.

Freelance translator - Amazon Europe Core SARL, Intl Retail, Luxembourg
From 2016
Translating, reviewing and editing machine-translated content.
Insurance expert assistant specializing in claims management to Cola Massimo, Prato, Italiy
2002 - 2009
Documentation and Data Management
Communication and Customer Support
Claim Processing
Claim Settlements and Payments
Compliance and Documentation
Claim Closure and Follow-Up
EDUCATION AND TRAINING
Scuola Superiore per Interpreti e Traduttori, Pescara (Italy)



2017
Masters degree in translation
▪ Translation with technical, legal, commercial and web specializations


Icet, Cuesmes (Belgium)
2000
Bachelor in human resources management
Additional modules in human resources management (IEPS, Jemappes, Belgium)
▪ Interpersonal relations and communication
▪ Emotional support for social workers and carers Conducting meetings
▪ Introducing alternative therapies
▪ Child and adolescent psychology

Translation experiencies
...
Legal translation experience
 Several agreements (distribution agreement, agreement for after-sales services and for supply of spare parts, agency contract, provision of services agreement, commercial agency agreement, confidentiality agreement, synallagmatic agreement, etc.).
 Several statutes and several full extracts of the chamber of commerce register.
 Formation of a company.
 Several balance sheets and several financial statements.
 Notes to the accounts and Durc – certificate of the company's compliance with the obligation to
pay social security, welfare and insurance contribution.
 Several annual reports.
 Report of the Board of Statutory Auditors on budget.
 Several minutes of management board meetings.
 Process safety audit.
 Board of statutory auditors report on budget.
 Control system for financial reporting Management System Guideline.
 Occupational Health and Safety Operation Plan.
 Environment, Health and Safety Plan
 Employment letters/contract amendments.
 Condition of sales.
 Description and certification of a high performance cement-based adhesive.
 Seller's Disclaimer.
 Ecologo certifications.
 Several general terms of business.
 Order and appeal.
 Articles of Mauritian Civil Code of law.
 Order suspension.
 Discharge.
 Several powers of attorney.
 Several letters.
 Birth certificate.
 Death certificate.
 Other documents.

Legal post-editing experience
 Operating ratio.
 Several balance sheets and extract of the chamber of commerce register.
 Chamber of Commerce registration certificate.
 Statute and minutes of management board meetings.
 HSE Improvement Plan.
 Supplier communication.
 Several Codes of ethics.
 Declaration, witnessing of signatures and apostille.
 Several Palermo Juvenile Court's decisions.
 Gene Juvenile Court's final order.
 European Convention on information on foreign law (London, 07 June 1968).
 Information request from the Italian Ministry of Justice.
 Request for international legal assistance.
 Court of Pesaro's memorandum of understanding on extraordinary expenses to children's
maintenance.
 Central authority's letters.
 Letters of appointment.
 Professional assignment for legal assistance in Italy on behalf of the Ministry of Justice -
Department of Juvenile Justice and Community
 Summons to attend a hearing at the Palermo Juvenile Court.
 Appeal relating to the issue of a declaration of enforceability of a decision given in the European
judicial area In accordance with article 28 et seq. Of the Regulation (EC) No 4/2009 of 18
December 2008 on jurisdiction, applicable law, recognition and enforcement of decisions and
cooperation in matters relating to maintenance obligations.
 Letter from the central authority on recovery of maintenance payments due from an obligor
resident abroad in accordance with Council Regulation (EC) no 04/2009 of 18 December 2008.
 Letter from Italian Ministry of Justice, Department of Juvenile Justice and Community, central
authorities for a a procedure for recognition and declaration of enforceability and the enforcement
of a decision.
 Letter from public prosecutor's office of canton of Ticino to First Instance's court of Brussels
about mutual assistance in criminal matters
 Criminal records.
 Responsible who are on mission abroad's rights.
 Other documents.
Revision
 Stratus Environmental Quality Label implementation process
Technical translation and post-editing experience
 User's manual and technical descriptions for electronic ticketing systems and equipment.
 Linear guide systems catalogue.
 Luxury eyewear collections.
 Landing craft mechanized (LCM) updated technical specification.
 Telehandlers brochure.
 Multimedia communication.
 Instructions for installation and use of a ball valve.
 Luxury table collections.
 Fishing rods catalogues.
 Torque converter technical documentation and Instruction manual.
 Infrared hydrocarbon gas detector instructions and technical manual for a 64T encased clutch for
a gas turbine starting drive.
 Digital front end user manual.
 Magazine articles and descriptions about innovative design furniture.
 Digital front end strings.
 Magazine articles and descriptions of innovative design furniture
 Proportional safety relief valves.
 Variable axial piston pump for hazardous areas.
 Explosion proof directional solenoid valves
 ATEX, IECEx and EAC multi-certification.
 Electrical/pneumatic rotary control valve.
 Centrifugal compressor.
 Luxury glasses technical descriptions.
 Industrial gas turbines introduction and presentation.
 Heavy duty gas turbine virtual training.
 Auto, scooter and bike parts.
 Countless technical descriptions.

Total number of pages : more than 5783 (PE+Translation). Number of pages translated only : more than 2120 pages (Translation only).
Translation currently accounts for 100% of my total income.

Quero Véronique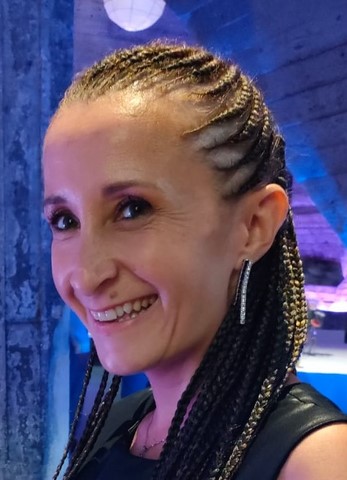 Freelance Translator
Prato, Italy
info@verodesk.com
Skills
Confidentiality and Ethics
Terminology management
Trados and MemoQ
Languages
French
Italian
English
Turkish
Wolof